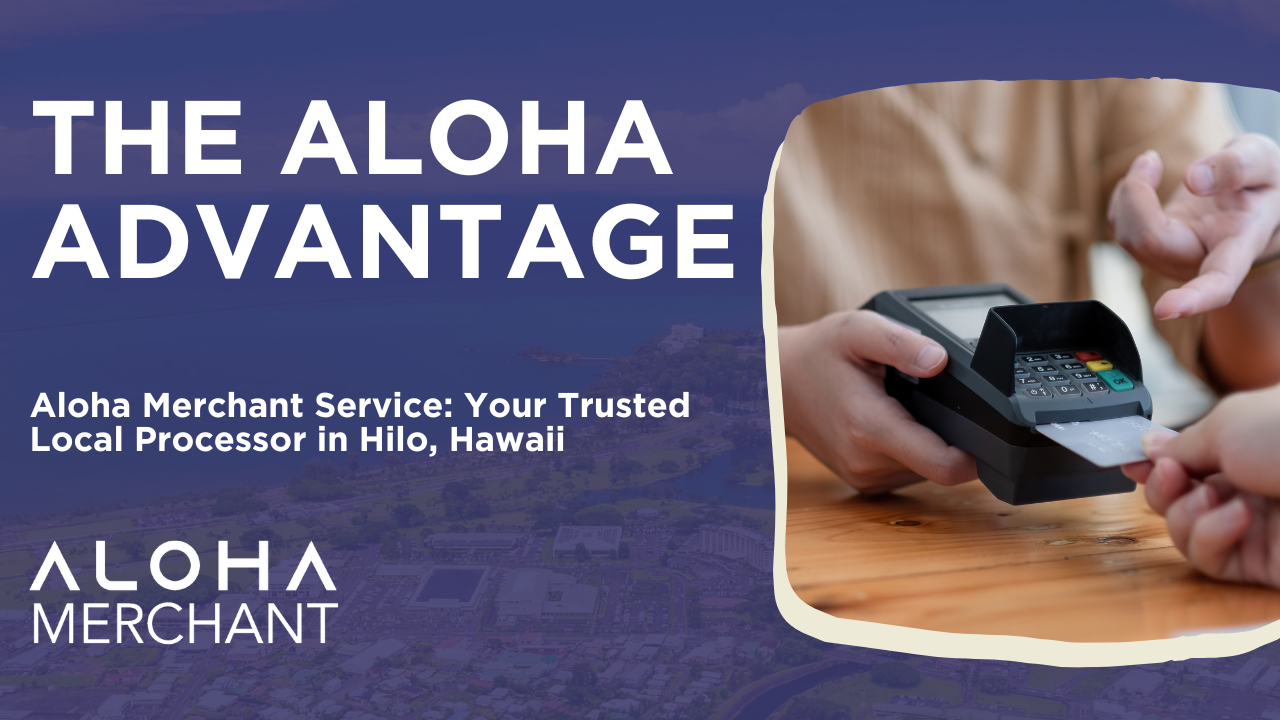 Aloha Merchant Service: Your Trusted Local Processor in Hilo, Hawaii
In the dynamic realm of commerce, swift and secure payment processing is the lifeblood of any thriving business. The pivotal mechanism ensures transactions flow seamlessly, allowing enterprises to focus on growth and customer satisfaction. While your local bank may seem like the primary facilitator of this crucial function, the reality is quite different. Most banks delegate payment processing to large, centralized processors. That's where Aloha Merchant Services steps in, providing you with a trusted local processor right here in the heart of Hawaii. 
Local Representation
At Aloha Merchant Services, we understand the unique needs of businesses in Hawaii. We are not just a service provider; we are your partners in success. Our team comprises professionals deeply ingrained in the local business landscape, ensuring you receive personalized attention and support. Unlike distant processors, we are here in Hilo, ready to cater to your requirements. 
Savings and Cutting-Edge Technology
When you choose Aloha Merchant Services, you're not just getting a payment processor but investing in a comprehensive solution that empowers your business. Our state-of-the-art technology ensures that every transaction is processed swiftly and securely. This enhances the efficiency of your operations and provides your customers with a seamless payment experience. 
Furthermore, we understand the value of every dollar for a business. That's why we offer cost-effective solutions that help you save money without compromising on the quality of service. By choosing Aloha Merchant Services, you're not only optimizing your payment processing but also optimizing your bottom line. 
The Aloha Advantage Tailored Solutions for Hawaii's Unique Business Landscape 
Hawaii's business environment is distinct, characterized by its vibrant mix of cultures and industries. Aloha Merchant Services is finely attuned to these intricacies. We offer customized solutions that address the specific challenges and opportunities faced by businesses in the region. 
Security You Can Trust 
We understand the critical importance of security in payment processing. Our robust security measures are designed to safeguard your transactions and customer data, providing peace of mind and ensuring compliance with industry standards. 
Unmatched Customer Support and Local Support 
In the world of business, time is of the essence. Our dedicated support team is available around the clock to address any queries or concerns. With Aloha Merchant Services, you're constantly managing your payment processing with others. 
Seamless Integration 
Switching to Aloha Merchant Services is a seamless process. Our team of experts will work closely with you to ensure a smooth transition, minimizing downtime and disruptions to your business operations. 
Technology is the game changer. 
We offer everything from Credit Card Terminals to Full Point of Sale System for Retail Store or your restaurant. We handle all types of businesses from Low Risk to High-Risk and everything in between. 24-7 Support along with Local Support is what your business needs and Aloha is here to serve the local community on the Big Island 
Elevate Your Business with Aloha Merchant Services
In a rapidly evolving business landscape, having a reliable, local partner for payment processing is not just a convenience; it's a strategic advantage. Aloha Merchant Services combines a global player's expertise with a local business's personalized touch. Experience the difference yourself and let your business thrive with our cutting-edge solutions.