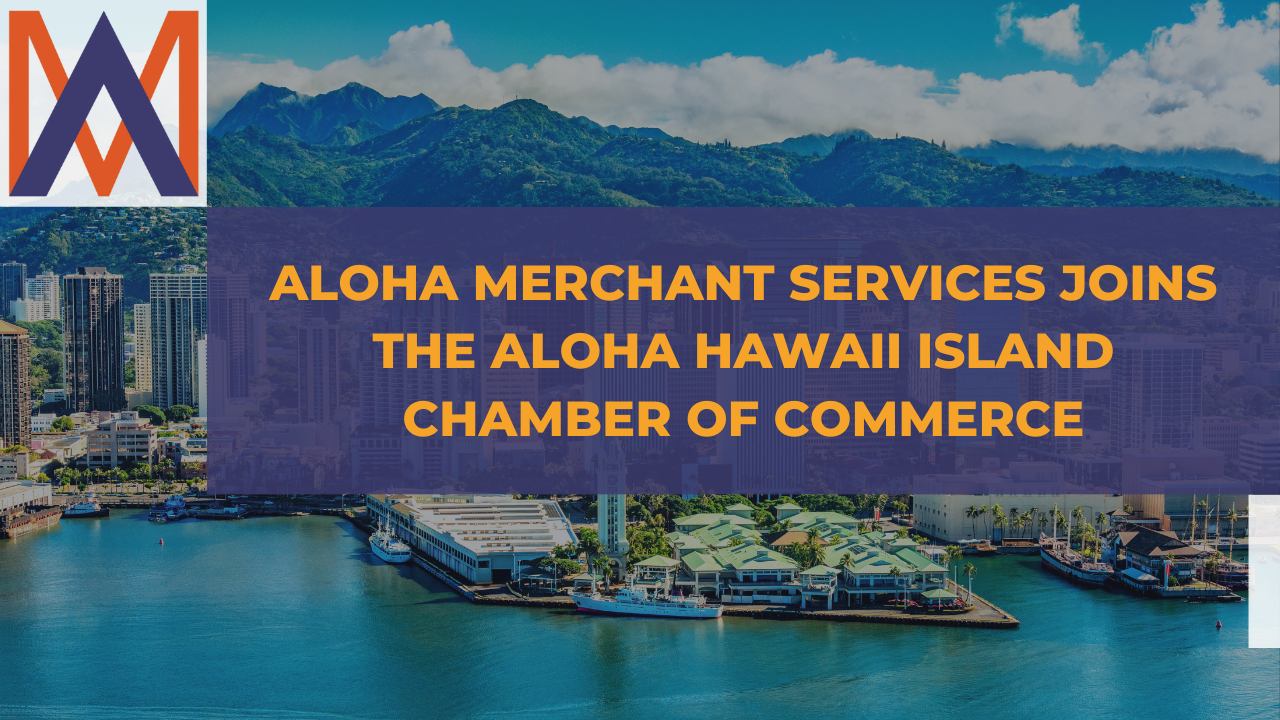 Aloha

 

Merchant

 

Services Joins the

 

Aloha

 

Hawaii Island Chamber of Commerce

Aloha Merchant Services is thrilled to announce its recent membership in the prestigious Aloha Hawaii Island Chamber of Commerce. This collaboration further strengthens our commitment to supporting local businesses on the beautiful island of Hawaii. In this blog post, we will explore this partnership's significance, its benefits to our customers, and how it aligns with our core values. Read on to discover how Aloha Merchant Services continues to provide exceptional services to businesses while contributing to the growth and prosperity of the local economy.
Why Joining the Aloha Hawaiʻi Island Chamber of Commerce Matters:
Building Relationships and Networking Opportunities: By joining the Aloha Hawaii Island Chamber of Commerce, Aloha Merchant Services can access a network of like-minded business professionals. This invaluable networking platform opens doors to collaborative opportunities, partnerships, and referrals, ultimately enhancing our ability to serve our clients effectively.
Supporting the Local Economy: At Aloha Merchant Services, we firmly believe in supporting the local economy and contributing to its growth. Our Aloha Hawaii Island Chamber of Commerce membership allows us to actively participate in initiatives and programs that promote economic development, tourism, and sustainability. By supporting local businesses, we help create a vibrant and thriving community for everyone.
Access to Resources and Expertise: The Aloha Hawaii Island Chamber of Commerce provides its members with a wide range of resources and expertise to help businesses succeed. This membership empowers Aloha Merchant Services to stay updated with industry trends and best practices, from educational workshops to marketing tools and business development resources. We can better serve our clients' evolving needs by continuously honing our skills and knowledge.
How Our Membership Benefits Our Customers:
Enhanced Credibility and Trust: Being a member of the Aloha Hawaii Island Chamber of Commerce further enhances Aloha Merchant Services' credibility and trustworthiness in the eyes of our customers. It signifies our dedication to maintaining the highest professionalism, ethics, and customer service standards. When businesses choose to partner with us, they can be confident in our commitment to their success.
Access to Exclusive Discounts and Offers: Through our membership, we can offer exclusive discounts and special offers to our customers. These benefits help our clients save money and strengthen our partnership with them. At Aloha Merchant Services, we strive to provide value-added services that meet and exceed our customers' expectations.
Local Expertise and Support: As an Aloha Hawaii Island Chamber of Commerce member, Aloha Merchant Services has deepened its understanding of the local business landscape. We possess valuable insights into the unique challenges and opportunities businesses face in the area. This local expertise enables us to tailor our solutions and services to meet the specific needs of our customers, ultimately helping them achieve their business goals.
Conclusion: Joining the Aloha Hawaii Island Chamber of Commerce is a significant milestone for Aloha Merchant Services. We are proud to be part of this esteemed organization and excited about the opportunities it brings. Through our membership, we aim to contribute to the success of local businesses and the overall economic growth of the island. To learn more about our services and how we can support your business, visit our website or contact our team today.
Remember to share this blog post with your friends and colleagues and on social media to spread the word about the benefits of Aloha Merchant Services' membership in the Aloha Hawaii Island Chamber of Commerce.
For more info about Aloha Merchant Services, contact Jay Jarrett – at 808-336-2345 – [email protected]